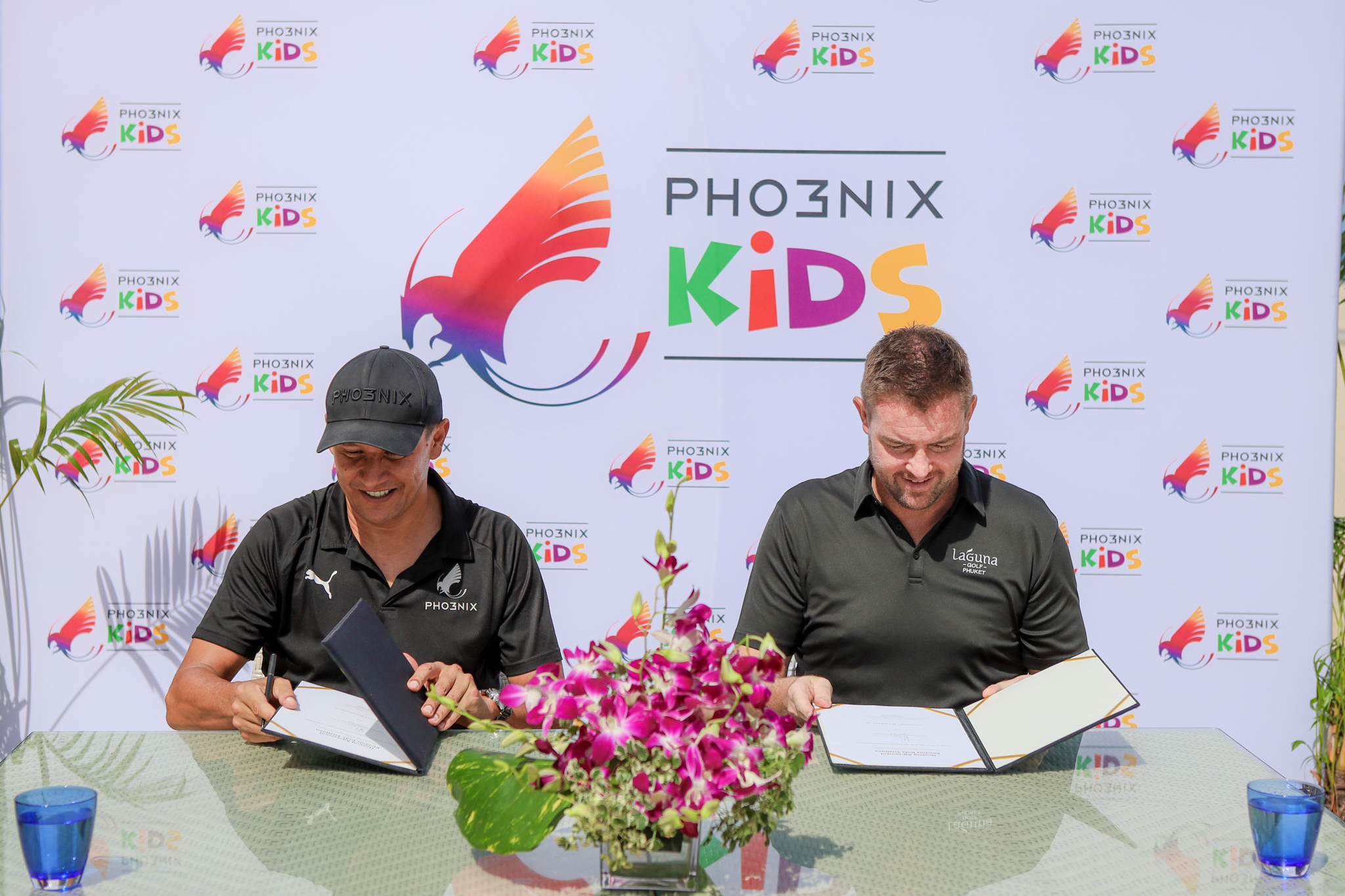 Pho3nix Kids and Laguna Phuket sign hosting agreement for Pho3nix Kids Triathlon
Event to become part of the Laguna Phuket Triathlon festivities
Pho3nix Kids Thailand today announced the signing of premier resort Laguna Phuket as a host venue partner for the Pho3nix Kids Triathlon series.
The holiday destination on the central west coast of Phuket hosts the Laguna Phuket Triathlon (LPT), Asia's longest-running triathlon event known as "The Race of Legends" with the likes of triathlon greats Mark Allen, Paula Newby-Fraser, Simon Lessing, Greg Welch, Craig Alexander, Chris McCormack, Jan Frodeno, Chrissie Wellington, and Mirinda Carfrae gracing the race over the past 28 years.
As part of its annual triathlon festival tradition, Laguna Phuket will host the culminating Pho3nix Kids Triathlon event on 19th November, the day prior to the LPT.
Pho3nix Kids Thailand director Roman Floesser says, "The Laguna Phuket Triathlon is one of Asia's most legendary triathlons and a bucket list event for many pros and age groupers alike. We are absolutely thrilled to be partnering with Laguna Phuket, the host venue for the season finale of the inaugural Pho3nix Kids Triathlon Thailand series. It not only gives our aspiring Pho3nix Kids the opportunity to race in a world class venue but also a chance to meet with and be inspired by the world's best athletes who will be competing at the same venue a day later."
Laguna Phuket's Senior Assistant Vice President, Group Director, Golf and Destination Sales & Marketing shared Floesser's sentiment by saying, "Laguna Phuket is delighted to welcome the Pho3nix Kids Triathlon to join our award winning Laguna Phuket Triathlon 2022 race week. We are excited to give young triathletes the opportunity to experience and compete at one of the worlds very best races and hope to inspire the next generation of athletes."
Pho3nix Foundation's board member Chris McCormack added, "I grew up watching the Laguna Phuket Triathlon as a kid then raced it as a professional, so when the opportunity came to bring the Pho3nix Kids triathlon to Asia I knew it had to be at Laguna Phuket. The resort is stunning and see the Pho3nix Kids Triathlon as a stalwart event for many years to come".
Featuring more than 1,400 guest rooms across 7 deluxe hotels, Laguna Phuket's facilities and a wide range of activities for the whole family throughout the beautiful lagoons, tropical parkland and pristine beach include an award-winning 18-hole golf course, tranquil spas, restaurants, bars, boutique shopping, private charter and join-in luxury tours, daily activities at all Laguna Phuket hotels, canoeing, sailing, and the azure waters of the Andaman Sea.
Thailand is the first Asian country to host Pho3nix Kids Triathlons, and will kick off in March to join Poland, Switzerland, Spain, UK and Australia in sharing the Pho3nix Kids movement worldwide. A global initiative by the sport nonprofit Pho3nix Foundation founded by Polish businessman and philanthropist Sebastian Kulczyk, Pho3nix Kids is part of a range of educational initiatives aimed at giving children of all backgrounds the opportunity to be active and take part in sports.
For further information or to enter the Pho3nix Kids Triathlon Series, visit http://pho3nixkidsthailand.com/.